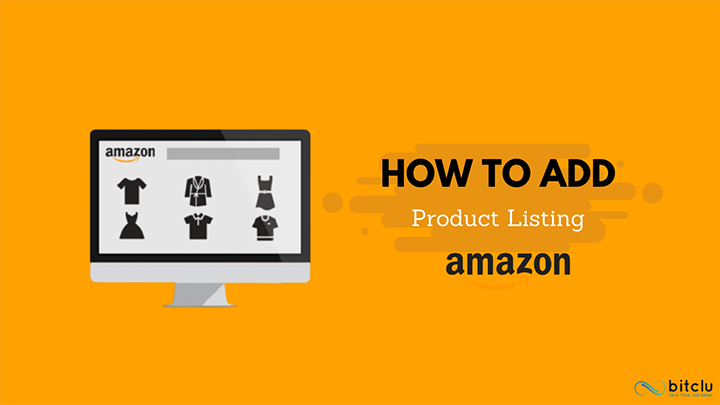 So, you have created an Amazon seller account and now you want to add products. If you know how to add products, then it's great, just go ahead. But if you have doubts like "is the right way to add products? or what if I do a mistake?" Then this article is for you.
Prepare your products first
Have you prepared your products? If you are a newbie you can say what does that means? Well, there are a lot of things that you must consider before listing your products on Amazon.
You need to enter the UPC of every product that you are listing on Amazon if you are not selling a private label product or have a registered brand. UPC is a universal product code that helps in identifying one product from another. You can buy UPC from GS1 (A nonprofit organization that provides chain barcoding) or from UPC resellers. But it is better to buy from GS1 because a wrong UPC purchased from an unauthentic source can lead to suspension of your listing.
Take good quality photographs of your products. Blurry and low-quality images will create a negative impression on customers and can cost you later.
Double-check the product category
What is the benefit of listing your products if customers cannot find it? So, before making your listing live on Amazon, make sure you selected the right category.
Measure your product dimension
You must have the product measurements to complete the final process of listing. If you are selling the same product that someone is already selling on Amazon, then just copy the dimensions. Otherwise measure the height, length, and width of your product and enter the details on the required fields.
Start adding your products
After knowing what to do before listing, let us now start adding the products. This amazingly simple four step process will enable you to start selling your products on the world's largest marketplace.
Sign in your Amazon seller account. Move your cursor to the Inventory dropdown menu and select "Add a Product"
For adding products choose any one of the below options.
Type your product name or UPC to search for your product.
Click on "Create a new product listing" if your product is not in the catalog.
Bulk upload your product by uploading your inventory file.

Choose the product category
Confirm the product category then choose the category and then subcategory. In the picture below you can see the product category and its subcategories.
In the next step, enter the important details of your product such as:
Item name
Product Id (UPC Code)
Brand
Manufacturer
Item type
Warranty information
You can add variations if your product comes with a variety of sizes, shapes, and colors. Open the drop-down menu and selects the type of variation that suits your product.
After selecting the type of variations, more fields will be displayed. Like here in this example, the following field has been displayed after selecting the "Color" variation.
Once you add the above information, more fields will be revealed to you. Simply fill these details and then you are done with the "variation".

Next, Amazon will ask you to add an offer for your product. Enter the required information in each cell of the "offer" field to complete this step such as:
Seller SKU (This is basically used to manage your inventory. You can create it by using unique letters or alphabets or both. If you leave it empty Amazon will automatically fill it)
Price
Condition
Quantity
Fulfillment channel
Add product images to give more visibility to your listing and more clarity to your customers. But before uploading the images check out the guidelines.
After you upload the product images, you can click on the "Advance View" at the top left side. This field will take you to three important tabs: Description, keywords, and More details.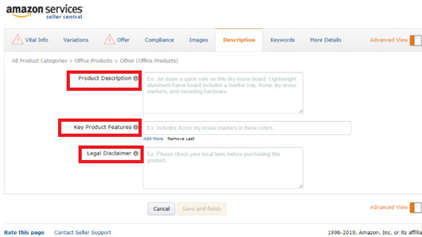 In the description tab, describe your product. Add key features of your product and then enter the legal disclaimer if any.
Keywords make a product more visible to customers. You can add only 250 characters in the search terms field, so make sure the keywords are not repetitive. Try to use long-tail keywords and keep on checking the performance of the keywords even after completing the listing process.
In the last step add the dimension of your product in the "More Details" section and click "Save and finish "After the submission, Amazon will verify your listing and soon your listing will get live.
In the next blog, we will discuss the importance of product descriptions, images, keywords, and titles in boosting sales. So, stay tuned.