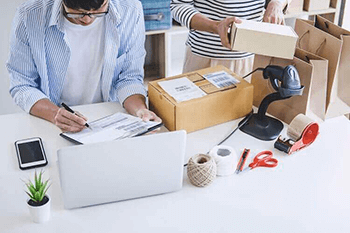 Amazon Fulfillment By Merchant (FBM) allows you to sell products on Amazon & control the entire packaging & shipping process. Learn more in our 2020 guide. Selling on Amazon is incredibly lucrative, flexible, and a major source of income for Amazon's 2.2 million sellers. In fact, anyone can sell on Amazon if they have the right resources and time.
And while the majority of Amazon sellers use Amazon's Fulfillment by Amazon method (aka FBA) to store and ship products from Amazon's warehouses, there is another option. You can fulfill your own products that you sell on Amazon's website using Fulfillment by Merchant (FBM). We'll tell you what you need to know about getting started selling on Amazon and how to fulfill products via Amazon's Merchant Fulfilled Network (MFN, which is the same thing as FBM).
How to sell on Amazon
Selling on Amazon is a great way to earn extra income or to expand a business you already have, and it's something you can start building today.
60% of Amazon sellers say their current Amazon business is their first experiences as a web entrepreneur.
New Amazon sellers can earn more than $800,000 per year in profits.
The majority (72%) spend fewer than 30 hours per week working on their Amazon businesses

Everyone's experience selling on Amazon is unique, so your first step is to consider what kind of business you want to create.
We'll review the main decisions you'll have to make and provide an introduction to the basics of how to sell on Amazon. If you'd like to learn more, be sure to read our free in-depth guide: "How to Sell on Amazon FBA."
Step 1. Select your marketplace
Amazon has 14 global marketplaces:
Australia
Brazil
Canada
France
Germany
India
Italy
Japan
Mexico
Netherlands
Saudi Arabia
Spain
United Kingdom
United States
While you are free to sell in any marketplace you like, we recommend the following guidelines:
If you are a US seller, sell in the US marketplace. The US is not only the largest of the Amazon marketplaces, but it is also the easiest on which to start selling.
If you are a seller living in the EU or the UK, sell in the EU marketplace. The second largest Amazon marketplace in the world is the EU marketplace. It encompasses the UK, Germany, France, Spain, Italy, and the Netherlands. Although it's not as easy to sell on as the US marketplace because of taxation and language barriers, it is convenient for EU-based sellers.
If you are a seller living anywhere else in the world, sell in the US marketplace (even if you have another marketplace in your country). The other global marketplaces do not have nearly the traffic as the US marketplace, therefore, it's better to forego those marketplaces for the larger, simpler US marketplace when starting.

Step 2 – Select your business model
Amazon lends itself well to various business models that fit all different budgets, time investments, and seller personalities. But the business model you select depends largely on whether you know what you want to sell on Amazon or not.
Bitclu can help you identify a high-demand, low-competition product to sell or validate a market opportunity for something you already have or make yourself.
Here are the most popular business models for Amazon sellers:
Private Label. Private label is the practice of manufacturing bulk products to sell under one's own brand or label. 71% of all Amazon sellers use the private label business model.
Wholesale. Whereas private label involves selling one's own brand, wholesale is the process of purchasing another company's branded products in bulk to resell on Amazon. 27% of Amazon sellers use the wholesale model.
Reselling (Arbitrage). Resellers practice retail or online arbitrage by purchasing discount products at retail outlets, big box stores, or even online on discount sites like eBay to sell at a higher price on Amazon. 20% of Amazon sellers use retail arbitrage and 15% use online arbitrage.
Drop shipping. Drop shippers market and sell products of another manufacturer or supplier. When a sale is made, the drop-shipper purchases the product from the supplier who in turn ships the product to the buyer. 8% of Amazon sellers are drop-shippers.
Handmade. Handmade Amazon sellers create their own products to sell on Amazon, like jewelry, clothing, or gifts. Unlike the other business models mentioned above, Amazon Handmade has its own separate section on the platform. 6% of Amazon sellers sell via Amazon Handmade.
There are also methods of selling on Amazon that are for digital products or are a little more niche, such as a Kindle Direct Publishing or Amazon Merch.
Step 3 – Select your fulfillment method
There are two methods for fulfilling products on Amazon: FBA and FBM.
Fulfillment by Amazon (FBA): A method of selling on Amazon in which a seller (or a seller's supplier) sends their products directly to Amazon's warehouses. Amazon then stores the inventory and ships it directly to the customer (often through 2-day Prime shipping) and manages customer support.
Fulfillment by Merchant (FBM): A method of selling on Amazon in which a seller lists their products on Amazon, but manages all storage, shipping, and customer support themselves (or through another third party). This is also referred to as a Merchant Fulfilled Network or MFN.
94% of Amazon sellers use FBA

66% of Amazon sellers use only FBA
28% of Amazon sellers use both FBA and FBM

34% of Amazon sellers use FBM

6% of Amazon sellers use only FBM
Note: This article goes into further detail on how to choose the right fulfillment method for your needs and abilities on basis of Pros & Cros of both FBM & FBA.
Step 4 – Create an Amazon seller account
After deciding what you'll sell and how you plan to get your products to your customers, you'll need to get your business set up — it's easier than you might think.
Creating your business
You will need to have a named business at this point. The name of your business can be anything you like, but we recommend you keep it relatively generic in case you want to pivot your focus in the future (say, from Smith Spatulas Co. to Smith Home Goods if you expand/change your product focus).
However, you don't need to file your business as a corporation or LLC when you're starting out. You can sell on Amazon as a sole proprietorship, meaning that you use your personal tax ID. Although, depending on the state or country that you live in, you may still need to file a Do-Business-As (DBA) form for the name of your business.
Once you have your business information, you can create an account in Amazon Seller Central.
Prepare all of the information you will need:

Business information (your business name, address, and contact information)
Email address
Credit card
Phone number
Tax ID (Federal and State)

Go to Amazon Seller Central (sellercentral.amazon.com) and click the box that says 'Register now'
Decide if you want to be a professional or individual seller
Enter your information into Amazon
Step 5 – List a product
As soon as Amazon approves you for selling on the platform, you can start listing products.
There are two ways to do this.
1. Sell on an existing product listing
First, if you are selling a product that already exists in Amazon's catalog, all you need to do is go to the existing listing and click the 'Sell on Amazon' button.
From there, add the information for your offer:
Your price
Condition (new or used)
Quantity (if you have more than one)
Fulfillment channel (FBA or FBM)
2. Create a new product listing
If the product has never existed in Amazon's catalog, you will need to create a new listing. To do this, you must:
Log into Seller Central
Click Inventory > Add a product
Click 'I'm adding a product not sold on Amazon'
Enter in the details for the product
After you have created your listing, it will take between a few minutes to an hour for your listing to appear in Amazon's catalog.
Step 6 – Fulfill your orders
When you make a sale on Amazon, you will need to fulfill the order.
If your products are sold via Amazon FBA, then Amazon will handle fulfillment for you and make sure your customers receive your products. However, if you are selling your product via Amazon FBM you will have to handle and ship your own order.

The pros and cons of FBM
Here is a summary of the advantages and disadvantages:
Pros of Amazon FBM:
More control. If you store and ship your inventory yourself, you will maintain hands-on access to your inventory whenever you need it.
Lower costs. Because Amazon's fees are based on the size of the item, if you have a large item with small margins you will want to compare the costs of using FBA vs. handling fulfillment yourself. This is especially true for items that have a slower turn rate.
Faster turn rates. Going FBM for low-priced items under $6-$8 will keep them out of Amazon's add-on program. This program is designed to save Amazon shipping and handling costs and requires that a customer purchase $25 worth of merchandise before Amazon will ship out an add-on item. This deters some customers, and you may find you can increase sales velocity by shipping these items yourself.
New Prime program. Amazon recently rolled out a new program that allows you to enroll seller-fulfilled products in the Prime program. Sellers have to apply to the program and show that they can meet Amazon's strict shipping standards.
FBM sellers have a back-up plan in place
During the holidays, when unloading times for inventory replenishment may slow down an FBA seller's business, FBM sellers can continue to receive orders and ship goods.
When emergencies occur such as the 2020 COVID-19 pandemic and Amazon stops shipping certain products, FBM sellers can continue to receive orders and ship goods.
Cons of Amazon FBM:
Required discipline. Amazon is fanatical about customer service and will penalize sellers for late and incorrect shipments. Without a strong, quality-controlled process, you will make mistakes. Those may lead to a lower seller-health rating, which affects how you show up in search and reduces your chances of winning the Buy Box. Too many errors and Amazon could suspend your seller account, even permanently.
Lower selling price. To win the Buy Box and compete with other FBA sellers, you may need to keep your sales price low. This will affect margins and could start a pricing war.
FBM sellers spend more time on their business
FBM sellers spend more than 40 hours per week on their Amazon business versus FBA sellers.
FBM sellers attribute their success on Amazon to having more time to commit to the business than FBA sellers who said the same.
For Amazon beginners, FBM costs can be higher than FBA costs
While it might seem like sellers who pick, pack, and ship their own goods have lower costs than those who use Amazon FBA and must pay FBA fees, when the total costs are compared, FBM sellers often spend more to ship products.
Use Amazon's FBA calculator to compare the costs and profits to ship the product yourself versus Amazon doing it for you.
The pros and cons of FBA
Here is a summary of the advantages and disadvantages:
Pros of Amazon FBA:
Prime enrollment. This is one of the biggest benefits to FBA. As a third party seller using FBA, all your products are automatically enrolled in Amazon's Prime program. It's estimated that Amazon has 60 to 80 million Prime members who shop more frequently and spend more than non-Prime members.
Buy-Box wins. There are many factors that go into winning the Buy Box and fulfillment method is a big one. An FBA seller can generally price a little higher than an FBM offer and still hold the Buy Box.
Freed-up time. With FBA, Amazon takes on the task of filling your customer's orders including customer service and returns. For some sellers, this is a big benefit. FBA allows you to focus your time and resources on growing your Amazon business, instead of spending it on the logistics of storing, packing and shipping your inventory to customers.
Lower shipping rates. It's likely that the fees Amazon charges to ship your products are lower than what you would get through your own shipping account. If that is the case, using FBA will lower costs and increase your profit margin.
Cons of Amazon FBA:
Complicated fees. Amazon charges different FBA fees, including fees for monthly storage, order fulfillment, pick-and-pack and weight handling. These fees vary depending on the size of your item and can be complicated to calculate on your own. Use the FBA revenue calculator or the Fee Preview report to determine what you are paying in fees for each of your products.
Long-term storage fees. Amazon does not want to store your goods indefinitely. Long-term storage fees are charged on the 15th of each month for inventory that has been at FBA for more than 181 days. You will need to be aware of your inventory age and have a plan to sell through or remove your older inventory to avoid these penalty fees.
Limited access. If there are quality problems with your inventory or the wrong product is being sent out to customers, sellers are obviously not able to walk into the warehouse and review their inventory. You will need to either have it removed and shipped back to you, or rely on Amazon's employees to double check the product inside their fulfillment centers.